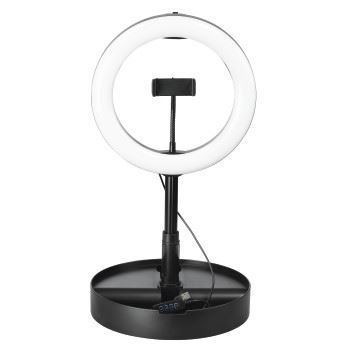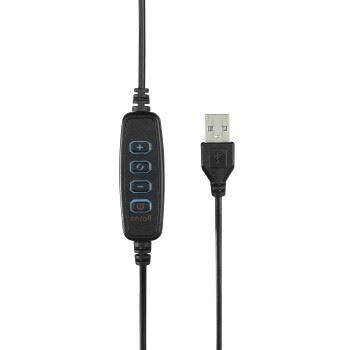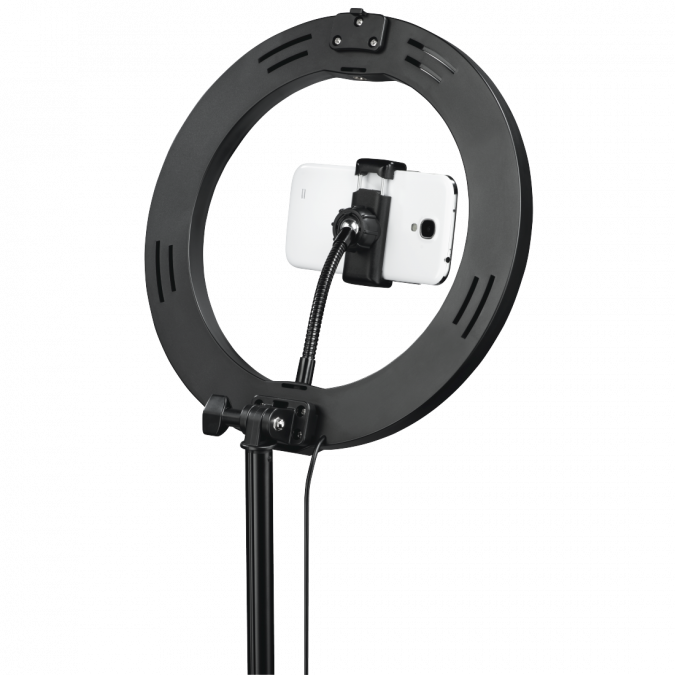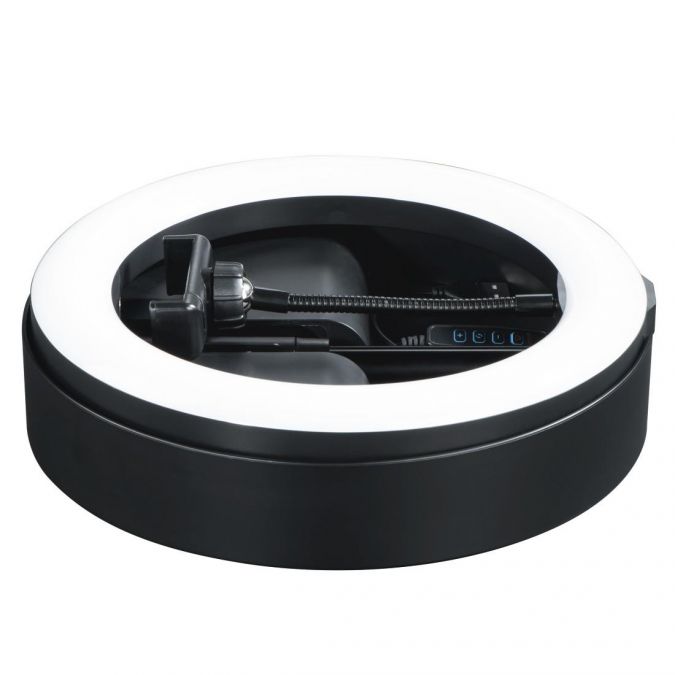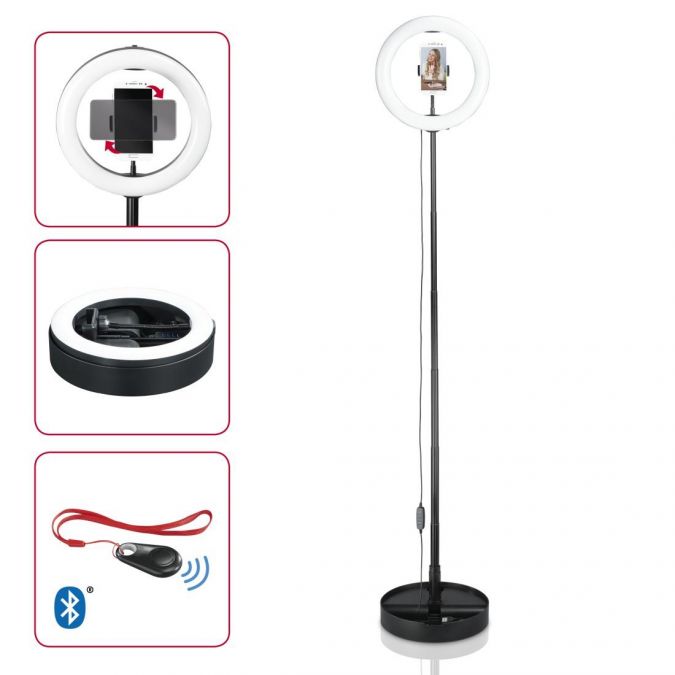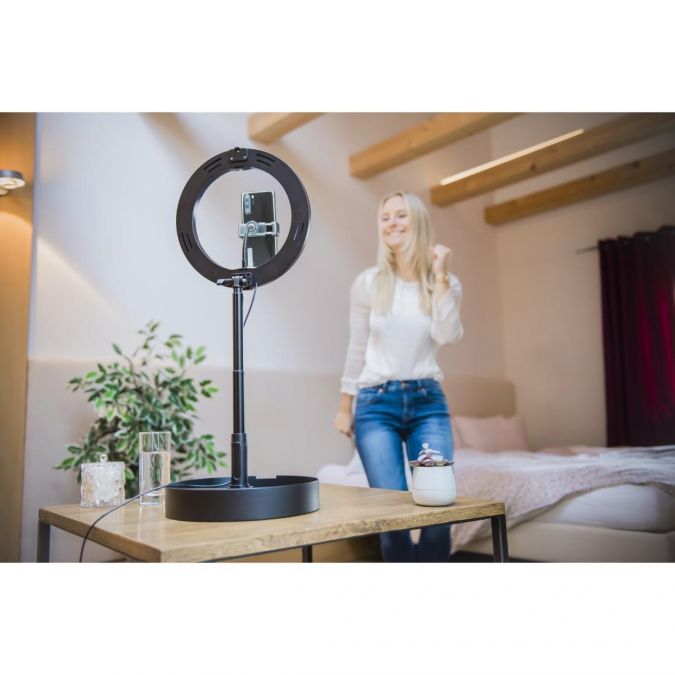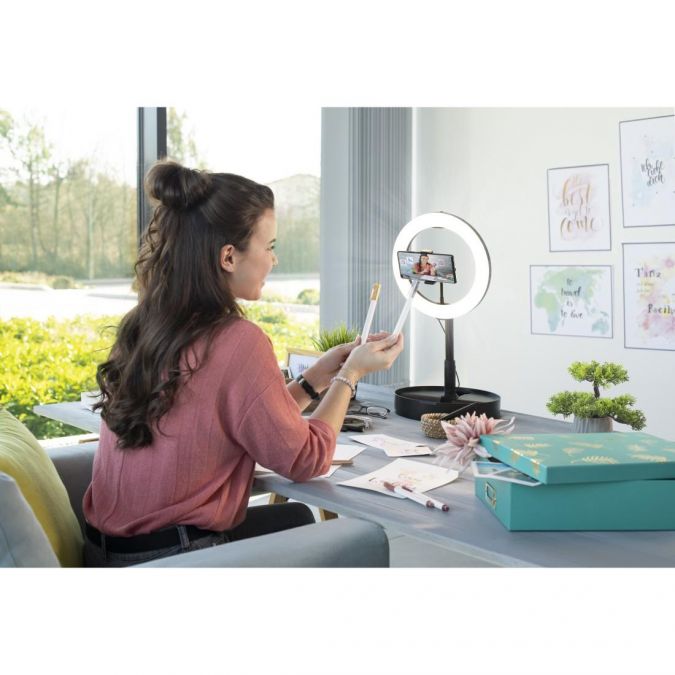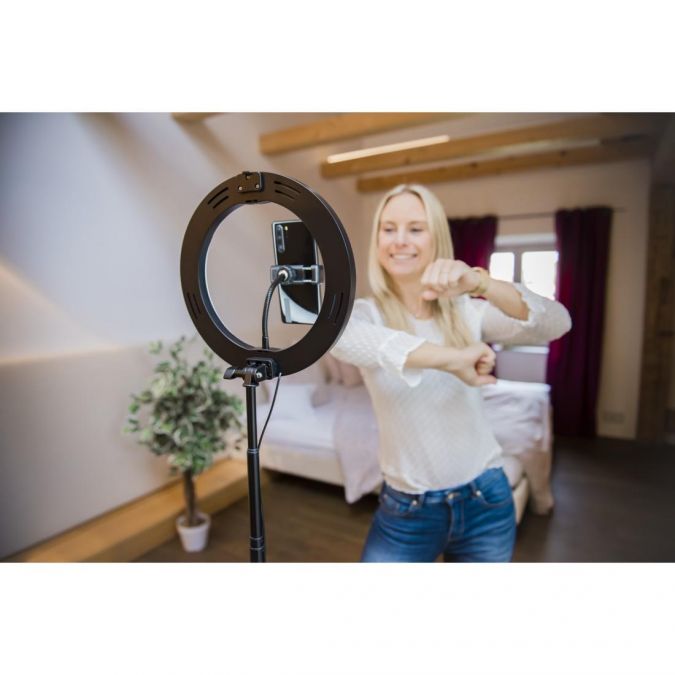 SpotLight FoldUp 10.2 LED Ring Light & Stand, Set for Smartphones, Foldable
Whether you're an influencer, blogger or vlogger, you can create professional photography and videos for social media with a smartphone even without high-end equipment. With our LED ring light, you will always look your best thanks to perfect and highly adjustable lighting.
From warm white to daylight bright: control the colour temperature in 3 stages (3000/4500/6000 K) using the cabled remote control, for the optimised and even illumination of videos and portraits, for example
From radiantly bright to pleasantly dimmed: the light intensity can be adjusted in 10 stages
Sparkling charming eye effect: LED ring light magically creates a light in the eyes through reflections
Photo studio to go: the ring light can be folded together and stored in the stand - perfect for all bloggers and vloggers who are on the go a lot
Up and away: extendable up to 138 cm, ideal for larger scenarios or for being photographed sitting or standing
Optimised illumination during make-up tutorials or selfie portraits: can also be used as a table tripod at its minimum height of 52 cm
Always the perfect recording position: portrait and landscape format thanks to smartphone holder with ball head and flexible swan neck

Details

- 1 "SpotLight FoldUp 102" LED ring light
- 1 Bluetooth remote trigger (incl. 1 CR2032 button cell, 1 wrist loop)
- 1 swan neck
- 1 transport bag
- 1 instruction manual
LIGHTS PERFECTLY YOUR BEST SIDE
The make-up tutorial on YouTube, the dance choreo on TikTok, the most beautiful design ideas forthe blog, the most beautiful cat portraits on Instagram, DIY videos, teaching cooking techniques, crafts and repairs: influencers, vloggers and YouTubers must provide high-quality images and videos. But if this is only a hobby for you, you don't have a budget for expensive photo and video equipment. Producing professional photos and videos on a small budget? Our LED Ring Light will make your photos and videos shine!
PROFESSIONAL-QUALITY PICTURES AND VIDEOS WITH LITTLE COST AND EFFORT
A DIY video with the best tips on repairing a bicycle tube – unfortunately, due to inadequate illumination, the user is unable to discern key information. The girls from your make-up community apply the highlighter entirely the wrong way, because it is difficult to see on the video. You don't want to do this to your community, surely? Our LED ring light illuminates a subject's face, an object or a scene perfectly. You mount your smartphone on a holder in the middle of the light ring: This ensures perfect, even illumination directly at the capture device and prevents shadow formation. The smartphone holder has rubber inserts to safely protect the smartphone from scratches.
RADIANT PORTRAITS AND FASHION LOOKS
An LED ring lamp will help you produce professional-quality portraits and videos on a low budget. It is important that there are no interfering shadows that cover up the performance, particularly on make-up, hair, fashion and cookery close-ups. The ring light with 128 LEDs ensures a shadow-free, radiant light kick. Using the 10 brightness levels, you can set whether it is used for pure illumination or to create a twilight effect.
In addition, three light colours are available:
6000K is perfect for lighting technical shots, such as workshop or repair scenes.
4500K can be used to create a neutral mood – ideally suited for cookery videos and fashion photography.
The 3000K colour temperature is ideal for showing off cosy interior design, for example.
Particularly practical: You don't have to keep on getting up to set the desired light effect on the LED ring light itself or on the smartphone, but can do this very conveniently using the remote control integrated in the cable. In this way, you can test out different lights in action and find out which is the best light to stage yourself.
SIZE MATTERS:
PERFECT AS A TABLETOP TRIPOD
The make-up look using the latest cosmetics must be presented on Instagram straight away. With a minimum height of 52 cm, the ring light lends itself perfectly as a tabletop tripod for make-up tutorials or selfie portraits. If you have something larger in mind – you are creating a dance choreo for TikTok, for example – you can extend the LED ring light to up to 138 cm. You are the inspiration for styles and moves that shows itself in the best light. Depending on which of your many good sides you would like to show, you decide what is the right height for your performance.
VERSATILE AND FLEXIBLE FOR THE BEST VIDEO OR PHOTO EVER
From the lettering course to make-up tutorials to the YouTube cookery course – you can put your scenery in the right light with virtually any smartphone. A phone with a width of 6 to 8 cm can be secured in the spring clamp holder. You yourself decide whether to mount the phone vertically or horizontally. Normally a lettering tutorial is best done with your phone in a horizontal position; for Snapchat, Instagram and TikTok, it's best to record vertically.
The phone holder with its ball head and gooseneck can be moved in all directions. This helps you to stay flexible during filming or shooting, without having to constantly change the position of the ring light. Be creative and try out unusual recording angles. It will be fun, both for you and your community.
EVEN MORE FLEXIBILITY WITH THE BLUETOOTH REMOTE RELEASE
You have used your excellent fashion sense to put together the bridesmaid's outfit for your best friend's wedding. Now you want to capture this look at the wedding and include it in your next blog post. Your phone has a remote release function, but pictures produced with it tend to be comical and are not the best advertisement for your blog. With the smartphone ring light, a Bluetooth remote release is available for the precise moment. Whether you're taking a selfie or group photo – it allows you to click at just the right time.
COMPACT AND TRANSPORTABLE
Whether you are filming tutorials within your own four walls, are in the city doing a summer fashion photo shoot for your blog, or are filming the TikTok dance video at a cool location: The portable ring light made of aluminium and plastic is easy to take with you to any filming location. The photo studio to go can be folded up into a small pack size in a matter of seconds and stowed in the transport case included in the delivery – and then off you go with it to the hotspot.
FROM A TO B: THE POWER REMAINS
No power at the hotspot? It would be a pity if you couldn't photograph those pretty summer dresses or cosy winter looks. A power pack can be connected to the USB-A cable – so whether you're taking photos in the city or out in nature,