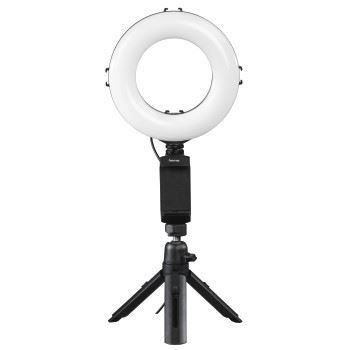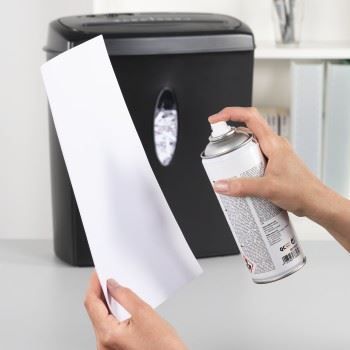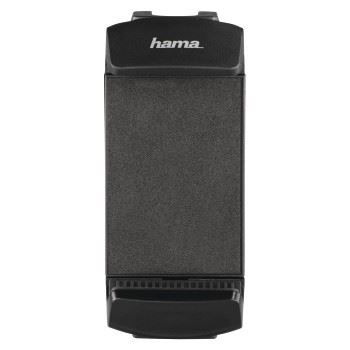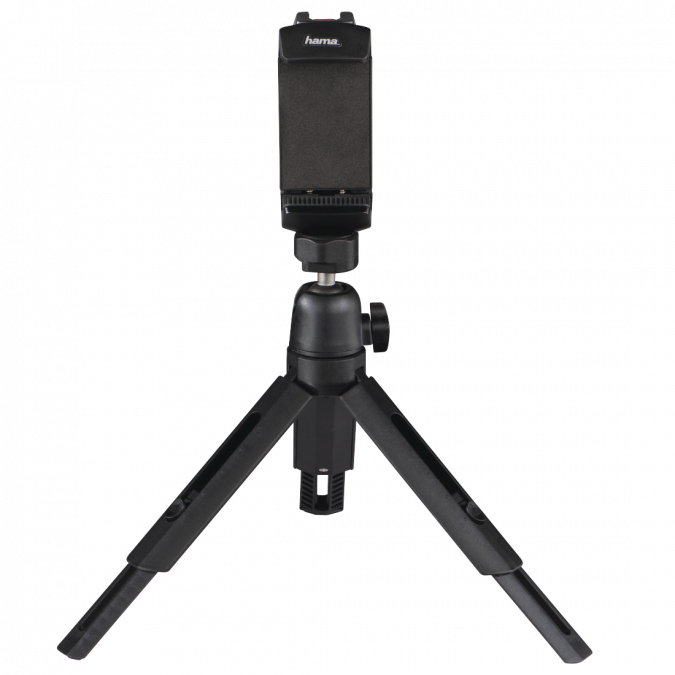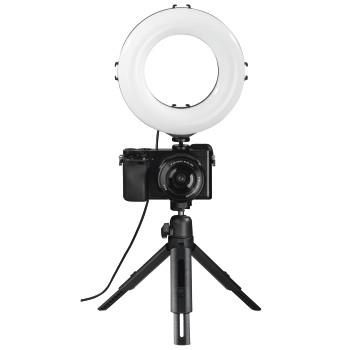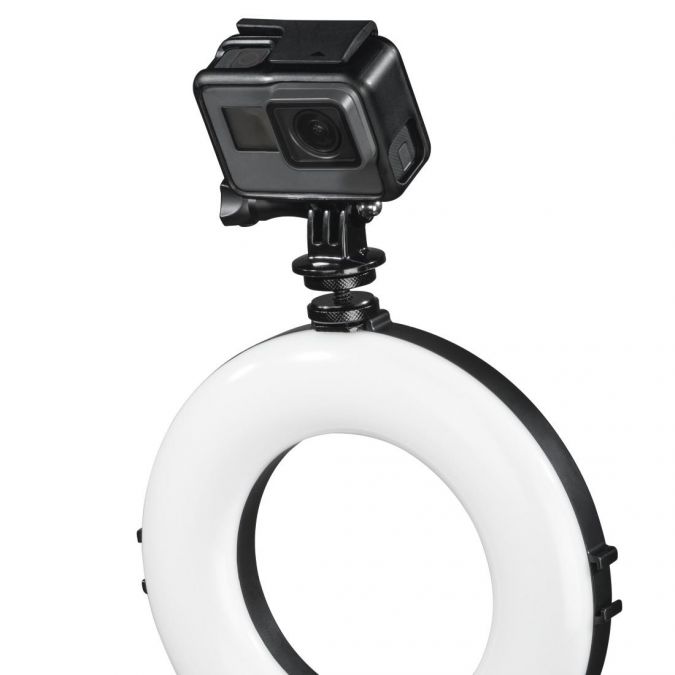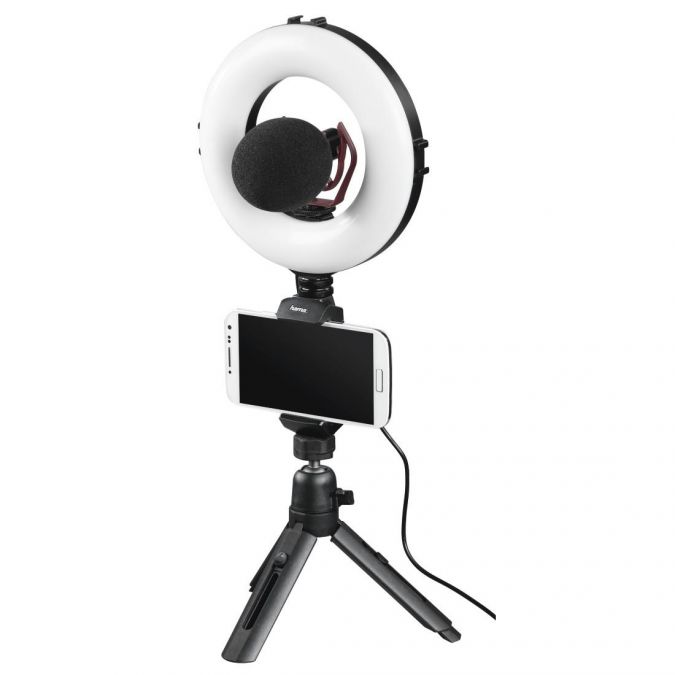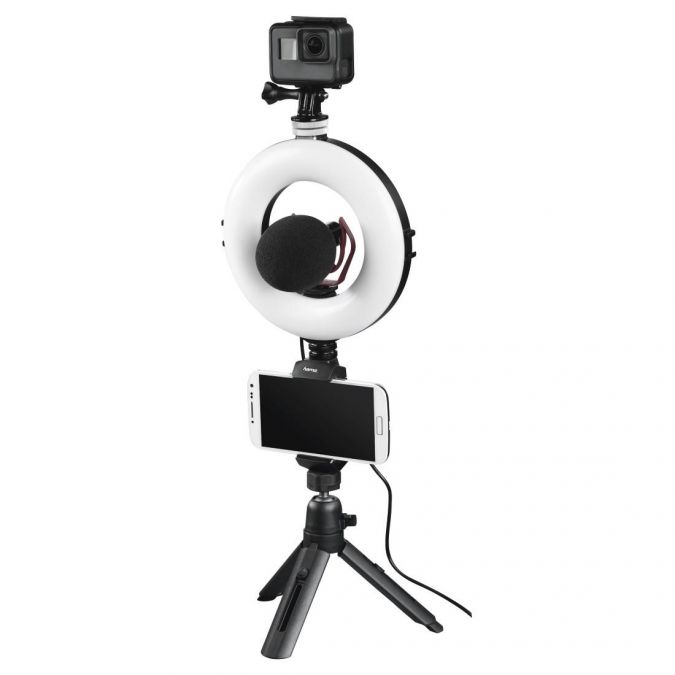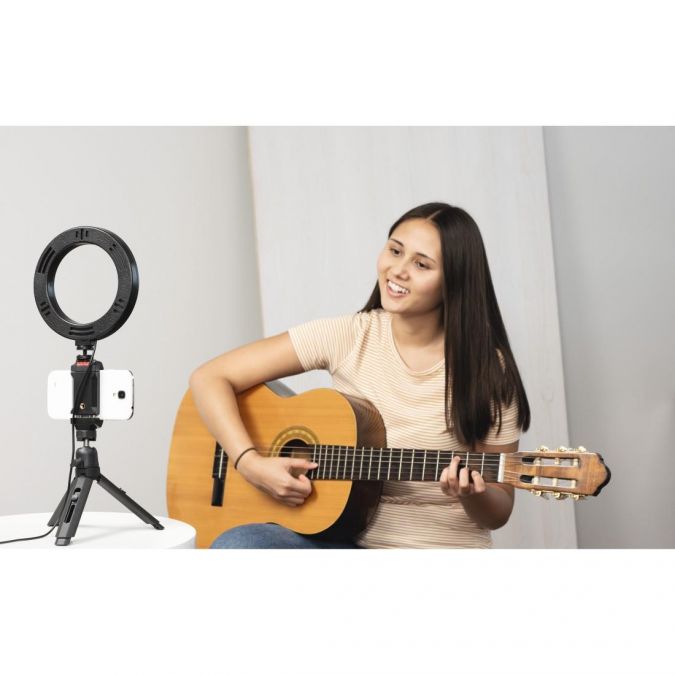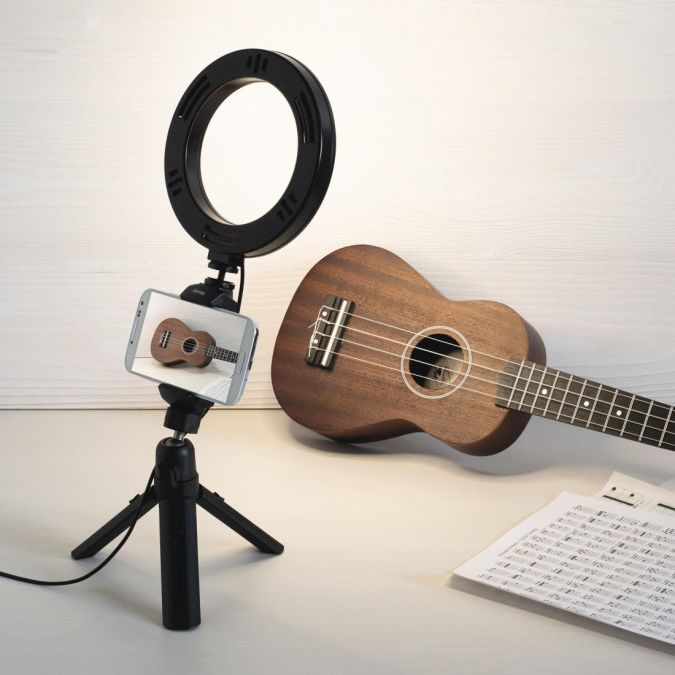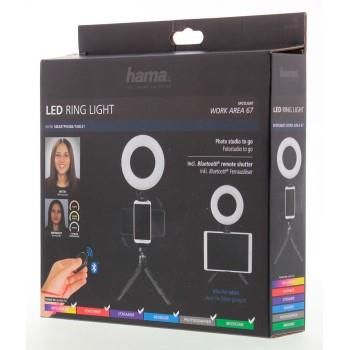 SpotLight 6.7" LED Ring Light, Stand & Mount Set for Smartphone and Cameras
Whether you're an influencer, blogger or vlogger, you can create professional photos and videos with a smartphone or tablet even without high-end equipment. With our LED ring light, you will always look your best thanks to perfect and highly adjustable lighting.
From warm white to daylight bright: control the colour temperature in 3 stages (2500/3800/5500 K) using the cabled remote control, for the optimised and even illumination of videos and portraits, for example
From radiantly bright to pleasantly dimmed: the light intensity can be adjusted in 10 stages
Always the perfect recording position: generous clamping area allows the smartphone to be inserted in portrait and landscape format
Unusual recording angle: ring light can be pivoted and tilted thanks to the tripod ball head
Photo studio to go: the compact ring light kit can also be dismantled for transport - perfect for all bloggers and vloggers who are on the go a lot
Optimised illumination during make-up tutorials or selfie portraits: perfect for videos and seated images
Tripod legs can be pulled out in 4 stages: adjustable via moving engagement mechanism at the press of a button on the outside of the tripod legs
.

Details

- 1 LED ring light
- 1 smartphone / tablet holder
- 1 desktop tripod
- 1 Bluetooth remote trigger (incl. 1 CR2032 button cell, 1 wrist loop)
LED RING LIGHT:
ILLUMINATES YOUR BEST SIDE PERFECTLY
Food blogs with your favourite recipes, make-up tutorials for YouTube, dance choreography on TikTok, cute cat portraits for Instagram, or DIY videos teaching handicrafts and how to repair things: Influencers, vloggers and YouTubers who want to stand out from the crowd will appreciate the importance of quality. The right lighting and creative angles make all the difference.
It doesn't matter if you have neither the room nor the budget for bulky, expensive photo and video equipment; our compact LED ring light will make your pictures and videos shine. Professional images on a low budget: perfect for beginners, ideal for the hobby area.
ONE TRIPOD FOR EVERYTHING
Whether you use a smartphone, tablet or camera – the flexible holder with a clamping range of 6.5 cm to 17.5 cm will fit all common smartphones and tablets of the corresponding size. Even digital cameras can be mounted on the photo tripod. When folded, the tripod converts into a monopod and can be used as a selfie stick.
Vertical or horizontal format? When taking shots for social media with your phone, you often have to do things quickly. Thanks to the individually adjustable phone holder, you can swiftly change between formats. For a video tutorial, you normally record in horizontal format; snapshots for Instagram, TikTok and Snapchat are best taken in vertical format.
A recess in the support surface ensures that your smartphone sits securely in the phone holder when you switch back and forth. In addition, rubber inserts protect the phone from scratches.
VERSATILE AND FLEXIBLE
Online guitar lessons, video conferences in the home office, or Skype calls with family – the lighting tripod with phone/tablet holder is versatile. The tripod ball head can be rotated and tilted in all directions. The video tripod can be extended from 13.5 cm to a maximum of 17.5 cm in height. You can therefore be creative, pan your smartphone without shake, and try out new angles.
Are you starting to get bored with filming only at your desk, in the kitchen and when doing yoga in the living room? Would you love to get out and about – down to the lake, into the woods into or the mountains? Our ring lamp is also very good for trips to new filming locations. Each individual leg pulls out in four different positions independently of the other legs, making the travel tripod extremely stable on uneven ground. The rubberised feet remain securely in position even on smooth, slippery surfaces.
RADIANT PORTRAITS AND VIDEOS
An LED ring lamp will help you produce professional-quality portraits and videos on a low budget. It is important that there are no interfering shadows that cover up the performance, particularly on make-up, hair, fashion and cookery close-ups. The ring light with 48 LEDs and an outer diameter of 17 cm ensures a radiant light kick. Using the 10 brightness levels, you can select whether it is used for pure illumination or to create a romantic twilight effect.
In addition, three colour temperatures are available:
5500K is perfect for lighting technical shots, such as workshop or handicraft scenes.
3800K can be used to create a neutral mood – ideally suited for cookery videos and fashion photography.
The 2500K colour temperature is ideal for showing off cosy interior design, for example.
Particularly practical: You don't have to keep on getting up to set the desired light effect on the LED ring light itself or on the smartphone, but can do this very conveniently using the remote control integrated in the cable. In this way, you can test out different lights in action and find out which is the best light to stage yourself.
CAPTURE THE MOMENT
After trying out different ideas, you have finally created the perfect no-make-up look. Together with your casual, undone hairstyle, everything looks perfect. You must capture this for Instagram. But after stretching to reach your phone, your strands of hair fall differently and the natural glamour is gone. Fortunately, the Bluetooth remote release is close at hand, resulting in the perfect self-portrait.
The Bluetooth remote control is also ideal for live streams and group photos. Even though your phone has a remote release function, the pictures taken with it tend to turn out a little strange or even embarrassing. So it's great that the smartphone ring light features a Bluetooth remote release function. Whether you're taking a selfie or group picture – it allows you to click at just the right time.