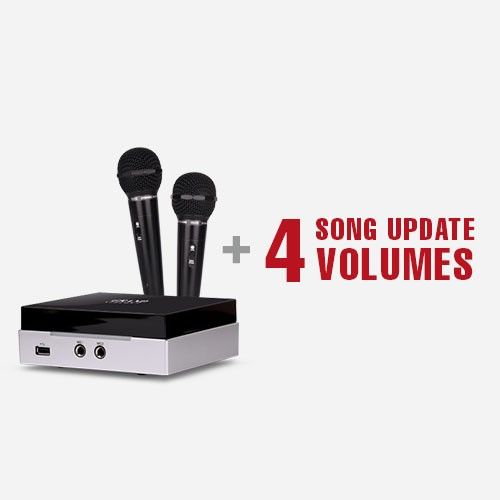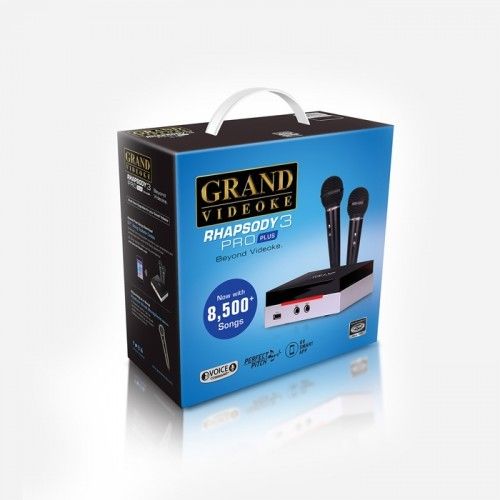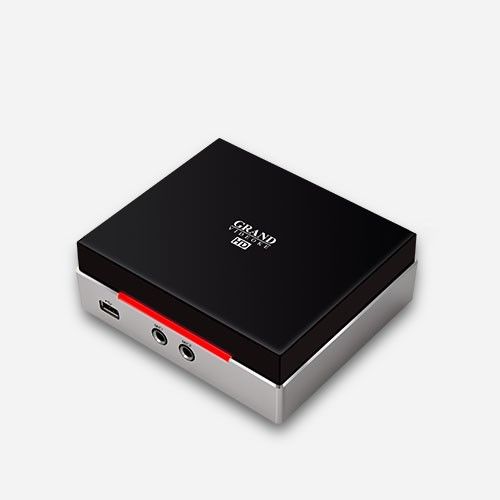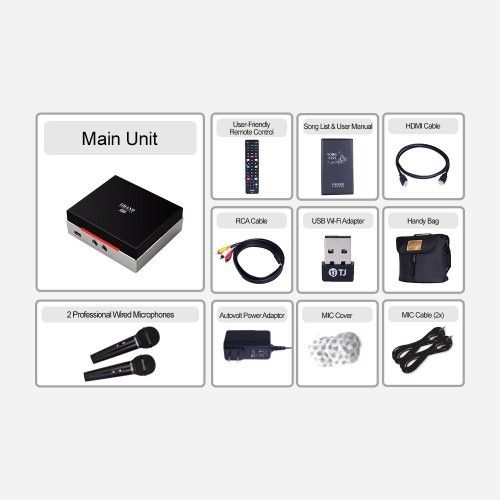 GRAND VIDEOKE Rhapsody 3 Pro Plus UK + 4 GV Song Update Volume
Experience the future of singing with the ALL NEW Grand Videoke Rhapsody 3 Pro Plus.


Now with 8,500+ Songs including the latest hits Perfect, Havana, Something Just Like This, Despacito, Shape of You, Symphony, Too Good at Goodbyes, Young Dumb & Broke, What Lovers Do and more! - PACKAGE INCLUDES 4 Download
Song Update Volume via GV Smart App and use GV Song Update Code to authenticate downloaded songs. Each GV Song Update Volume
contains 400
songs packed with the newest English Hits, Party Songs, OPM Songs and All Time Favorites!
The First with Perfect Pitch™ Voice Coach- Gives real-time feedback and 4-Point Scoring System that shows your Key/Rhythm, Vibrato, Upband & Downband scores

The First with GV Air Transfer- Send fun messages, use own pictures as background, save recorded songs or take screenshots of score and share on social media

The First with Direct Song Download- Download songs anytime, anywhere. Add new songs to your smartphone and easily sync them to the Grand Videoke's built-in storage. No more Song Packs!

GV Smart App Compatible- Push the boundaries of fun and interaction. Connect up to 4 smartphones to the main unit

The First with GV Voice Command+ - Find songs in seconds. Just say the song title or artist name and sing!

Professional Wired Mics- Effortless singing with dual wired mics

HD+ Audio & Full HD Video- Equipped with Dream Sound Module for more realistic & detailed sound. Visually stunning video backgrounds all in glorious Full HD 1080p

Lyric Videos- Sing to new videos with animated lyrics

Media Player - Play your favorite movies, music and pictures

16GB Secured Internal Memory and 1 Year
GV Plus on board songs



Song Selection
Song by language
Total Built-in Songs
8,527
English Songs
5,882
OPM Songs
2,604
K-POP Songs
41
Event Songs
Medley : 5
Event : 10
Song by format
MIDI
5,614
RealSound™
465
Chorus
2,150
Multiplex
255
Music Technology
HD+™ Audio
Downloadsv
Song Updates available to purchase online as Song Pack
Hardware Features
Microphone
Dual Professional Wired Microphones
Wireless Microphone Operating Frequency/ RF Type
N/A
Microphone Expansion
No additional jacks for Wired Microphones (Maximum of 2 singers w/ included wired mics)
LED Graphic Equalizer
N/A
Sound Module
Dream SAM2634 with special software optimization exclusive to Grand Videoke for HD+ Sound
• 414 instruments, 16-bit PCM, 48 kHz
• Better than CD-quality sound
Internal Storage
16GB built-in flash storage
Internal Storage Allocation for User Files
2GB of 16GB
Song Pack Slots
No physical slots — Song updates are done digitally via GV Smart Song Packs from the GV Smart App's Direct Song Download function. GV Smart App is available on Android and iPhone/iPad.
GV Smart Song Pack Max Song Count in Internal Storage
10,000++ songs
Photo
About 16,793 (1MB/per Pic)
Sound Recording
About 415 (4MB/per Song)
MP3 Music
About 3,358 (5MB/per Song)
New Song
Song Update Volume - 100 songs every other month
USB Slot & Functions
2 x USB OTG
• Compatible with USB flash drives and external hard drives of up to 1TB in size for multimedia playback and content storage. Supports USB Wi-Fi adapters for GV Smart App.
• Play music, movies and photo slides. Save song recordings. Load photo and video backgrounds.
USB Function
Play music, movies and photo slides. Save song recordings. Load photo and video backgrounds.
WI-FI
802.11n Wi-Fi via USB Wi-Fi adapter for connection between Grand Videoke and Android/iPhone/iPad via GV Smart App
Ports
• HDMI A/V output
• 3.5mm 4-pole A/V jack for RCA composite or line-out audio output
• 2 x 6.3mm (1/4") microphone jacks
• 2 x USB-A ports (front and rear)
Song Recording
About 4,198 (4MB/per Song)
Remote Controls
• TR-20P IR Remote Control • Virtual Remote & Song Book on GV Smart App for Android & iPhone/iPad — up to 4 devices via AP mode
Functions
Smartphone Connectivity
GV Smart App on Android and iPhone/iPad Free download on Google Play and Apple App Store, featuring special features and functions including:
• Direct Song Download
• GV Air Transfer™
• Voice Command+™
• Screenshot and Recording Social Sharing
• Virtual Remote and Song Book
Up to four (4) devices can be paired and used with the Grand Videoke simultaneously on Wi-Fi AP mode.
Voice Command
Voice Command+ on GV Smart App for Android and iPhone/iPad. Search for English and OPM songs as well as artists.
Perfect Pitch™
All built-in and GV Smart Song Pack songs except duet and rap can be played on this mode. Experience Grand Videoke's exclusive 4-Point Scoring System that allows you to experience singing as if you have your own virtual vocal coach.
Song Search
• Unified On-Screen Search — just type in the title of the song or the name of the artist without changing search modes
• Virtual Song Book on GV Smart App for Android & iPhone/iPad
Max Number of Favorite Songs
100 songs
Score Check Difficulties
Amateur, Professional, Perfect Pitch™
Score Check Formats
Normal Videoke Mode
• Points Format (0-100)
• Grades Format (S-F)
Perfect Pitch™ Mode
• 4-Point Scoring System
Real Time Score
• Normal Videoke Mode — Can be turned on or off
• Perfect Pitch™ Mode — Always on
Playback Controls
Play, Pause, Stop
Song Tuning Controls
Melody, Tempo, Key Adjustment, Male/Female Modes
Applause Function
Activated via remote control and GV Smart App
TV System
NTSC, PAL
Video and Backgrounds
Video Output Resolution
• HDMI: 1920 x 1080p 60Hz
• RCA: 720 x 480i
Video Total Runtime
90 minutes (80, 2.48GB)
Video Background Types
• WOW Philippines
• World Tour
• Motion
• 3D Anime Dance
• K-Pop
• K-Drama
• OPM MTV
• Lyric Video (on select songs)
• User Photo(My.Photo)
• User Photo(Ext.Photo)
• User Video(Ext.Video)
Power, Dimensions & Package Inclusions
Power Adapter
12V DC, 1.0A, 100-240V AC, 50-60 Hz Autovolt Adapter for International Compatibility
Consumption
10 W
Product Dimensions
150 x 54 x 135 mm
Package Dimensions
320 x 285 x 210 mm
Product Weight
420 g
Package Weight
3 kg
Package Inclusions
• TKR-343MP Main Unit • 2 x Professional Wired Microphones • User-Friendly Remote Control • Song List & User Manual • HDMI Cable • 3.5mm-RCA A/V Cable • USB Wi-Fi Adapter • Handy Bag • Autovolt Power Adapter