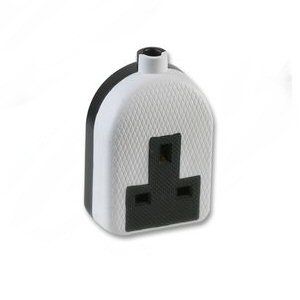 Ex-Pro White 1 Gang (Single) Extension socket without Lead Fitted With UK 13A Plug
The socket comes without a cable or plug, allowing you to customise your own extension lead - simply purchase your desired plug and length of cable. Connect to a suitable supply via a BS 1363 250V 13A fused plug, fitted with a 1.25 or 1.5mm² core cable. Made from high impact hard plastic and comes with an inbuilt cable grip to prevent strain on the connection.

Specifications:

Single gang
Outlet type: UK Plug
Current rating: 13A
Supply voltage V AC: 250V
Conforms to BS1363/A





[CUSTOMISABLE TRAILING SOCKET] - The socket comes without a cable or plug, allowing you to customise your own extension lead - simply purchase your desired plug and length of cable.
[UK 3 PIN SOCKET] - Replace your existing socket, or create a new extension of your own. The heavy-duty plug is perfect for tradesmen or home use, and for sheds, garages, workshops and more.
[FIT YOUR OWN CABLE] - Connect to a suitable supply via a BS 1363 250V 13A fused plug, fitted with a 1.25 or 1.5mm² core cable.
[1 WAY SOCKET] - Rewireable and adaptable, the heavy-duty extension socket is made from high impact hard plastic and comes with an inbuilt cable grip to prevent strain on the connection.
[EASY TO USE] - Manufactured to BS1363/A standards, the trailing socket is ideal for use in the home or office. Available in a range of colours and packs.