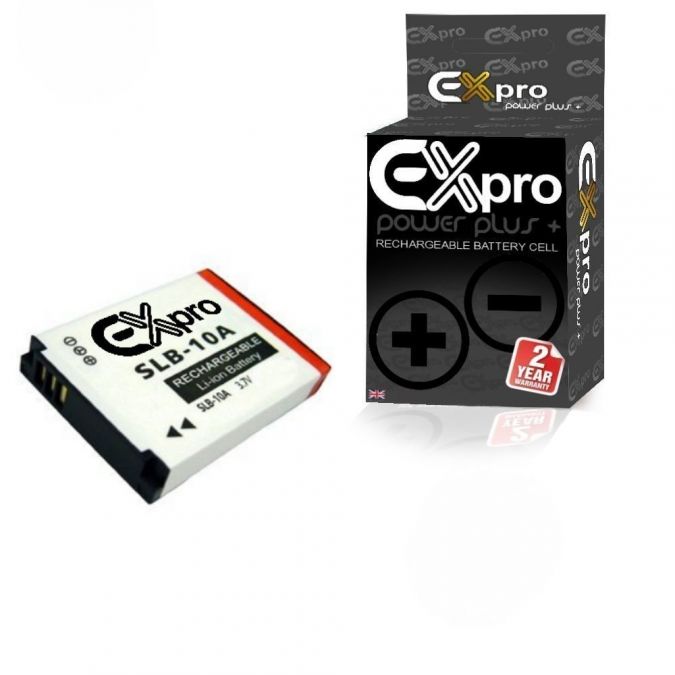 Code: B837-BATTERY-SLB10A
Ex-Pro Samsung SLB-10A, SLB10A Li-on Digital Camera Battery
Ex-Pro replacement Li-ion Battery. Can be used as a replacement or additional battery. Our cell's are manufactured to the highest standard meeting or exceeding the original manufacturers specification and supplied with a 2 year RTB guarantee. Ex-Pro batteries are fully tested and built with lithium-Ion technology to ensure maximum Power and battery life. 100% OEM Compatible with your original battery, save pounds on OEM manufactures replacement costs.
Ex-pro High Capacity Long Life lithium-Ion cells. Cell will Meet or exceed the manufacturers original OEM specifications. 100% OEM Compatible. Uses lithium-Ion technology to ensure maximum battery life and Power.
Manufactured using the highest quality materials, CE approved, ROHS Compliant certification. 2 Year Warranty.
Compatible with Samsung Digimax :- ES55, ES60, ES63, HZ10W, HZ10 W, HZ15W, HZ15 W, IT100, L100, L110, L200, L210, L310, L310 W, L310W, L313, M100, M110, M310W, M310 W, NV9, P800, P1000, P1200, PL50, PL51, PL55, PL57, PL60, PL65, PL70, SL102, SL105, SL202, SL203, SL310 W, SL310W, SL420, SL502, SL520, SL620, SL720, SL820, TL9, WB150F, WB500, WB550, WB690, WB700, WB750, WB850F & More.