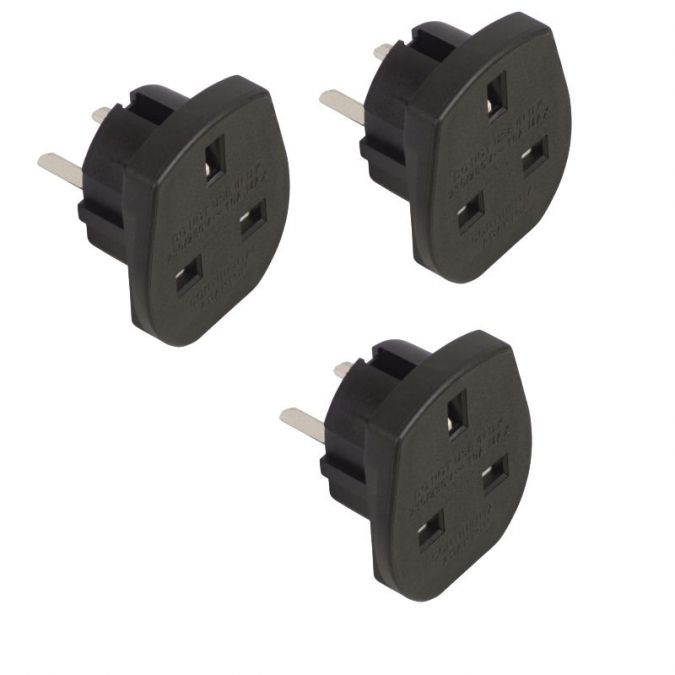 Code: [PACK]3xCAB15120-BLUSA3
Ex-Pro® [3 PACK] Travel Adapter Converts UK Plugs Plug to 2 pin (Flat) Converts - USA/Canada/Australian to UK 3 Pin Socket [BLACK]
Ex-Pro Travel Adapter Converts UK Plugs Plug to 2 pin (Flat) Converts - 2 Pin Flat Sockets to UK 3 Pin Socket [BLACK]

Suitable for 100 - 240.
Year Ex-Pro Warranty.
CE Approved.
ROHS Compliant.
Pack of 3

Converts from :-UK 3 Pin Standard Plug

to 2 Pin Flat :-

For :Bahrain, Bangladesh, Belize, Botswana, Brunei, Cameroon, Channel Islands, China, Cyprus, Dominica, El Salvador, Iraq, Ireland, Isle of Man, Jordan, Kuwait, Lebanon, Macau, Malawi, Malaysia, Maldives, Malta, Mauritius, Myanmar, Nigeria, Oman, Qatar, St.Kitts-Nevis, St.Lucia, St.Vincent, Saudi Arabia, Seychelles, Sierra Leone, Singapore, Tanzania, Uganda, United Arab Emirates, United Kingdom, Vietnam, Yemen, Zambia, Zimbabwe.

For :- Australia Standard:American Samoa, Argentina, Australia, China, El Salvador, Fiji, Guatemala, Kiribati, Nauru, New Zealand, Okinawa, Panama, Papua New Guinea, St.Vincent, Tajikistan, Tonga, Uruguay. USA Standard:American Samoa, Anguilla, Antigua, Aruba, Antilles, Bahamas, Bangladesh, Barbados, Bermuda, Bolivia, Brazil, Cambodia, Canada, Cayman Islands, China (without holes in blades and slight shorter blades), Colombia, Costa Rica, Cuba, Ecuador, El Salvador, Guam, Guatemala, Guyana, Haiti, Honduras, Jamaica, Japan, Laos, Lebanon, Liberia, Maldives, Mexico, Micronesia, Montserrat, Netherlands, Nicaragua, Niger, Okinawa, Panama, Paru, Philippines, Puerto Rico, St.Vincent, Saudi Arabia, Tahiti, Taiwan, Thailand, United States, Venezuela, Vietnam, Virgin Islands(U.S.&British), Yemen.