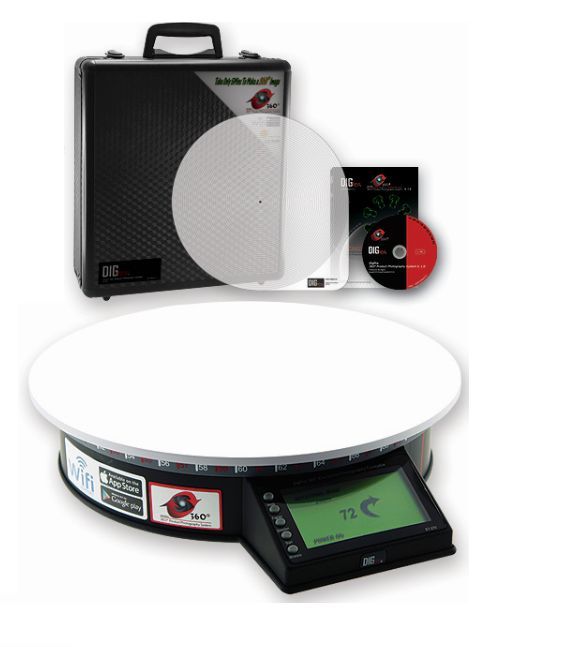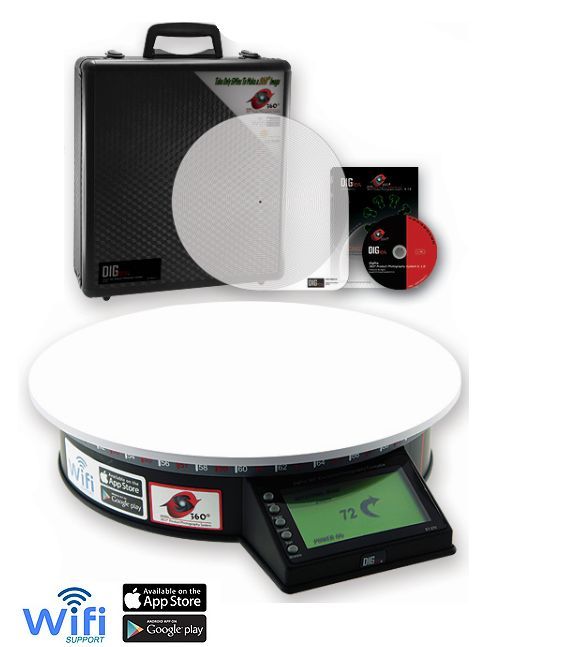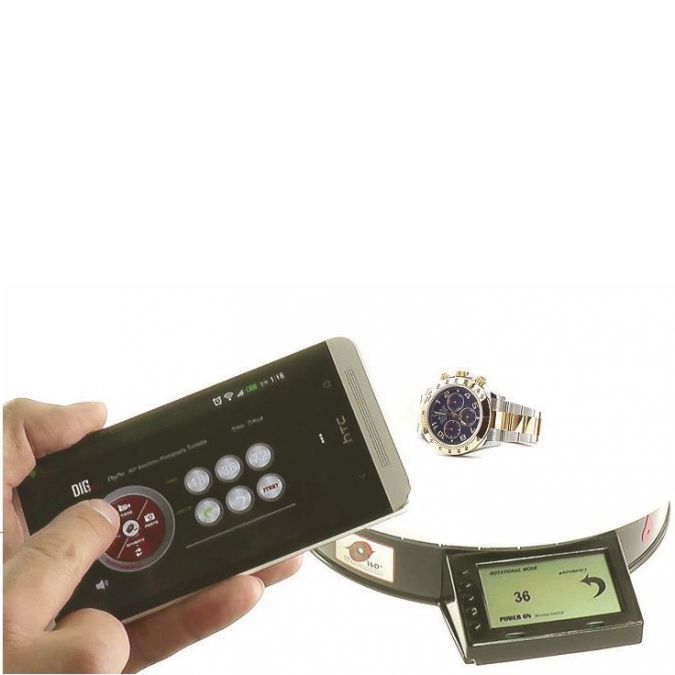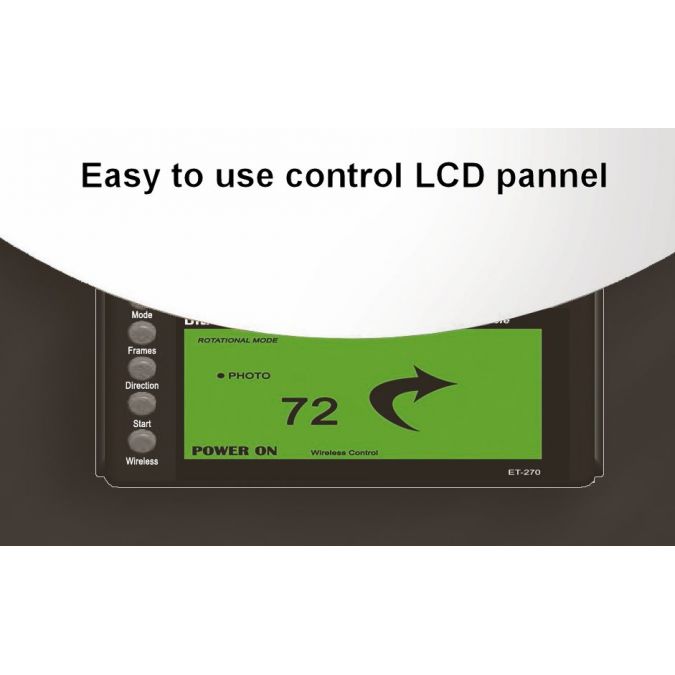 DigPro ET270 360° Motorised Product Photography Turntable with App. Control, Inc Image Software.
DigPro 360° Product Photography System (ET-270)
DigPro 360° product photography system provides a simple, economical and efficient way for users to make 360 ° product images by themselves. The 360° electronic turntable (ET-270) is suitable for making 360° spin image of small-sized objects ranging from eyewear to jewellery, food, toys, figures, watches and small electronics. With DigPro's free online production software 360img.net, everyone can easily create interactive 360° product images in just 5 minutes.
You Can Do It Yourself
DigPro 360° Electronic Turntable makes the 360° image production process becomes simple and efficient. The automatic operation process enables everyone to make 360° product images quickly.
Simply Fast & Efficient
With DigPro iPhotoBox Lite Mini Photo Studio, you can simply use any digital camera to capture pure white background product shots. DigPro's online production software 360img.net can compose the product shots and generate a web-ready 360° spin images for you in 1 minute. Therefore, you can create and upload 360° product views anytime you want!
High Quality & Cost-Effective
With DigPro 360° Electronic Photography System, you can create infinite high-quality 360° rotation product images by yourself, saving a lot of cost for product photography.
Attractive & Effective Production Presentation
General flat product pictures can no longer satisfy customers. According to the study of ADOBE SCENE 7 named "What Shoppers Want", more than 90% of consumers want to be able to view product from multiple angles! 360° product presentation has become a new trend of online marketing. Now use interactive 360° rotation image to present your products and create a brand new online shopping experience for your customers.
Customers can use their mouse or finger to control the rotating product image and view the product from different angles. 360° spin image enables the interaction between customers and products. Customers can therefore understand the product thoroughly and effectively.
5
Advantages
Upgrade website design, create unique brand image
360° presentation, overcome the barriers of online shopping
Increase the interaction between customers and products, make online marketing creative
Extend the time on browsing the website to reduce the bounce rate of the website
Reduce customer uncertainty during shopping online, increase transaction opportunities and conversion rates
Make 360° Product Images in A Flash
Get Your Product Ready to Shoot
create interactive 360° product images in just 5 minutes
Items Included
360° Electronic Photography Turntable ET-270
Professional Aluminum Box
Central Point Positioning Ruler
Features
Precise & Stable
72 Points of Infrared Precise Positioning Technolog
Professional Stepper Motor Electrical System
Soundless and Stable Movement
Max. Loading Weight 20KG
Two Modes
Provide 2 shooting modes: Photographing or Videoing
Photographing Mode: 18/36/72 frames for selection
Videoing Mode: Finish recording in 2 minutes
Able to choose direction of turning
Wireless Control
Free download of mobile application for controlling turntable
Support iOS & Android Systems
Work with WiFi transmitter and shoot automatically (WiFi Synchronized Connection with camera & turntable)
Free Software
Free to use online software 360img.net to produce 360° image
Able to generate and download as HTML & GIF formats
Able to convent MP4 to JPED
Specification
Turntable Diameter:
27cm
Max. size of photographed object:
25x25x25cm (L*H*W)
Max. Loading Weight:
20KG
Power:
Complying with international power supply requirements from 110-230V, 50-60 Hz, Full Voltage
Software:
www.360img.net Free Online Production Software
Compatible Camera:
Any DC or DSLR (WiFi transmitter compatible with any camera with hot shoe)
Package included:

DigPro ET-270 Electronic Turntable x1
LCD Display Monitor x1
UK Adaptor x1
Aluminum Case x1
Warranty Card x1
Central Ruler x1
360img.net Access

Packing Size:
40x40x15cm (L*H*W), 5kg
Net Weight:
4kg
360img.net Online Production Software
360° AR Imaging Hosting & Production Hub (https://www.360img.net) provides an easy-to-use and effective photo editing tool to the users with various practical functions including auto background removal, background replacement, auto-cropping, company watermark adding and photo editing.
| | |
| --- | --- |
| Input Formats: | Photos (JPEG, PNG), Video (MP4) |
| Functions: | Add Company Watermark, Slogan, MP3 File, Background Removal, Image Adjust, Size Crop |
| Output Formats: | Download HTML, GIF or JPEG |
| Output Size: | 320px, 480px, 640px, 960px, 1280px |
| Output Quality: | Fine, High, Superior |
| Image Rotating Speed: | Slow, Normal, Fast |
After-sale Service
Technical Support
3-month global online support will be provided. If you have any query regarding the product operation.
Warranty
24-month warranty will be provided. Please register the warranty within 14 days upon receipt of the product. Please keep the original sales invoice in proper condition. Customers are required to present the original sales invoice to the Company upon request for warranty service.
Tutorial Video
Mobile Application
WiFi Transmitter