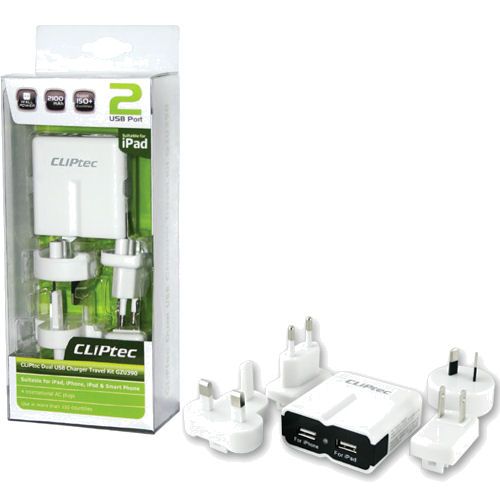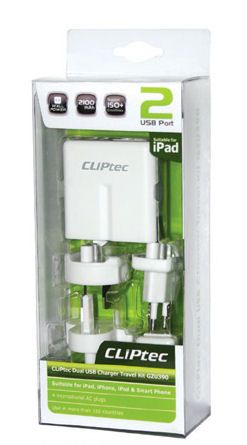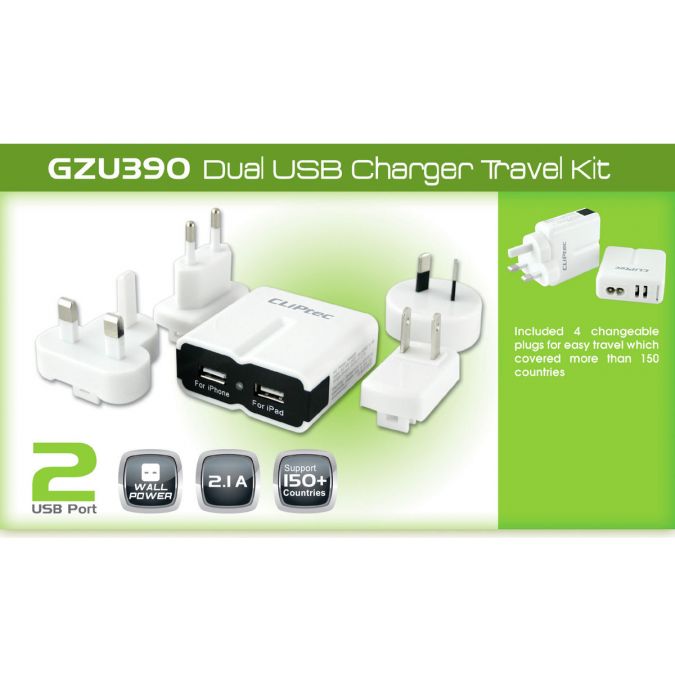 Code: CLP055-CL-POW-GZU390
CLiPtec® USB Travel Adapter Dual USB Port - Covers More than 150 Countries (2.1A)
Cliptec GZU390 Dual USB Charger Travel Kit is complete with 4 types of plug for you to use in more than 150 countries. This charger provides a total output current 2.1A , which suitable for Smartphones, Tablets etc.

Dual USB ports which can be charge two devices at the same time(total max 2.1A).

Blue LED display to notify charging status.

Provides total of 2.1A high power, high efficiency, safety and reliability.


Covers these countries and more ...

2 Pin Albania, Algeria, Angola, Argentina, Austria, Azores, Balearic Islands, Bangladesh, Belgium, Bolivia, Bosnia, Brazil, Bulgaria, Burkina Faso, Burundi, Cameroon, Canary Islands, Chile, Comoros, Congo, Croatia, Republic of Congo(Zaire), Ivory Coast, Cyprus, Denmark, Djibouti, Egypt, El Salvador, Equatorial Guinea, Eritrea, Faeroe Islands, Finland, France, Gabon, Germany, Gibraltar, Greece, Greenland, Guadeloupe, Guinea, Guinea-Bissau, Hungary, Iceland, India, Indonesia, Iran, Iraq, Israel, Italy, Kazakhstan, Korea, Kuwait, Laos, Lebanon, Lithuania, Luxemburg, Macedonia, Madagascar, Madeira, Mali, Martinique, Mauritania, Mauritius, Monaco, Morocco, Mozambique, Myanmar, Nepal, Netherlands, Niger, Norway, Oman, Pakistan, Paraguay, Peru, Philippines, Poland, Portugal, Romania, Russia, St.Vincent, Senegal, Somalia, Spain, Sudan, Suriname, Sweden, Switzerland, Syria, Thailand, Togo, Tunisia, Turkey, Uruguay, Vietnam, Yugoslavia(former), Zambia.

UK Standard:Bahrain, Bangladesh, Belize, Botswana, Brunei, Cameroon, Channel Islands, China, Cyprus, Dominica, El Salvador, Iraq, Ireland, Isle of Man, Jordan, Kuwait, Lebanon, Macau, Malawi, Malaysia, Maldives, Malta, Mauritius, Myanmar, Nigeria, Oman, Qatar, St.Kitts-Nevis, St.Lucia, St.Vincent, Saudi Arabia, Seychelles, Sierra Leone, Singapore, Tanzania, Uganda, United Arab Emirates, United Kingdom, Vietnam, Yemen, Zambia, Zimbabwe.

Australia Standard:American Samoa, Argentina, Australia, China, El Salvador, Fiji, Guatemala, Kiribati, Nauru, New Zealand, Okinawa, Panama, Papua New Guinea, St.Vincent, Tajikistan, Tonga, Uruguay.

USA Standard:American Samoa, Anguilla, Antigua, Aruba, Antilles, Bahamas, Bangladesh, Barbados, Bermuda, Bolivia, Brazil, Cambodia, Canada, Cayman Islands, China (without holes in blades and slight shorter blades), Colombia, Costa Rica, Cuba, Ecuador, El Salvador, Guam, Guatemala, Guyana, Haiti, Honduras, Jamaica, Japan, Laos, Lebanon, Liberia, Maldives, Mexico, Micronesia, Montserrat, Netherlands, Nicaragua, Niger, Okinawa, Panama, Paru, Philippines, Puerto Rico, St.Vincent, Saudi Arabia, Tahiti, Taiwan, Thailand, United States, Venezuela, Vietnam, Virgin Islands(U.S.&British), Yemen.