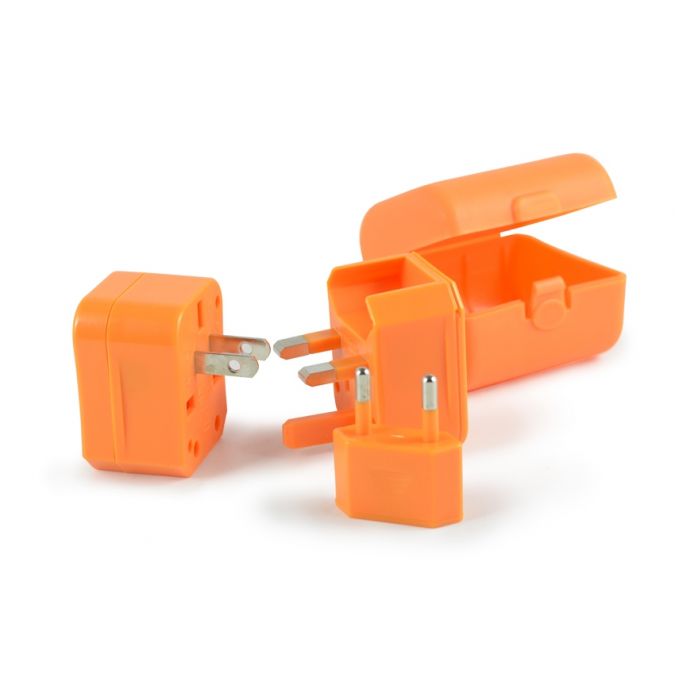 Code: CLP809-CL-POW-GZJ150-OR-UK
Multi Country UK Visitors Travel Adapter UK EU USA plug sockets to Mutli plug [Connect over 150 different countries] - Orange
CLiPtec GZJ150 Universal Traveling Plug Adaptor for everywhere and let it helps you power up the electric appliances out of town without hesitation. Simply take the one that suits the visiting country and use it with your electric appliance right away. The sockets can be assembled together in one piece for easy carrying and storage.
IMPORTANT: This product DOES NOT CONVERT electrical voltage and is not for use with high watt devices. [Make sure your mains device is compatible BEFORE connection to the country voltage]

Why bright orange ? A - How many have you left in a hotel ?

Features

All-In-One Compact International Universal Plug Adaptor, it can be used in over 150 countries or regions all over the world.

Support and works with US, UK, Europe, Asia, Australia, China and etc. VICE VERSA [Converts to and from]
Flexible and compact design perfect for travel companion.The idea for travel to the UK - converts UK 3 pin sockets to a mutli plug socket which can then take virtually any plug !

Speification
Rates Voltage 125V to 250V, max 2500W
Rated Current 6A (Max)
Dimension 57(L) x 50(W) x 40(H)mm
Weight 60gSupports over 150 countries, all countries with Round Pin EU style, 2 Pin Flat Style and UK.
Compact Case included.